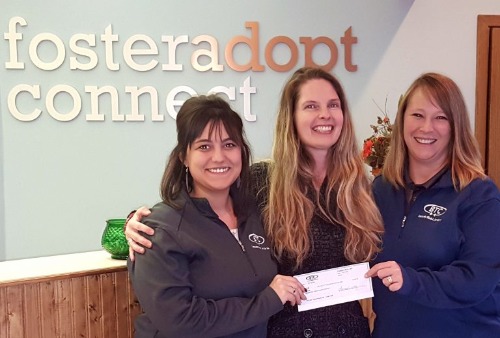 Every Friday, BTC Bank employees have had the option of paying $5 to wear jeans to work, with the money going to charities that are chosen by the employees. With 10 BTC Bank locations and over 100 employees, the total donation to its local communities amounted to $14,500.00 in 2018.
Boonville BTC Bank employees chose to donate throughout the year to Central Missouri Community Action CARE Baskets, Toys for Tots, Boonslick YMCA scholarships and Pilot Grove Ball Association with their raised Jeans Day funds. All other BTC Bank locations chose varied charities as well, including donations going to area angel trees, customers with hardships, shop with a cop programs, ministerial alliances, food pantries, adopt a family programs, backpack buddies, FosterAdopt Connect, YMCA, school lunches for students that can't afford them, gift certificates to families for food and many more local organizations.
The program has proven to be an affordable way of promoting teamwork and community involvement at BTC Bank. Not only do the employees choose the charities as a team, but an employee at each location is given the opportunity to present the check to their local charity on behalf of their branch.
"We really try to give the employees a sense of ownership over this program," says BTC Bank President, Doug Fish. "They're submitting it, they get to donate and they can encourage their colleagues to participate. It really helps create a sense of community."
The program has also proven beneficial to BTC Bank. Its mission as a community bank is to focus on the needs of the local communities, families, businesses and farmers. The bank believes that the Jeans Day initiative helps connect the bank and its employees to the community.
"It's like we're putting our money where our mouth is," says Fish. "And it's all because the dedication our employees have to their communities. I couldn't be more proud of them."